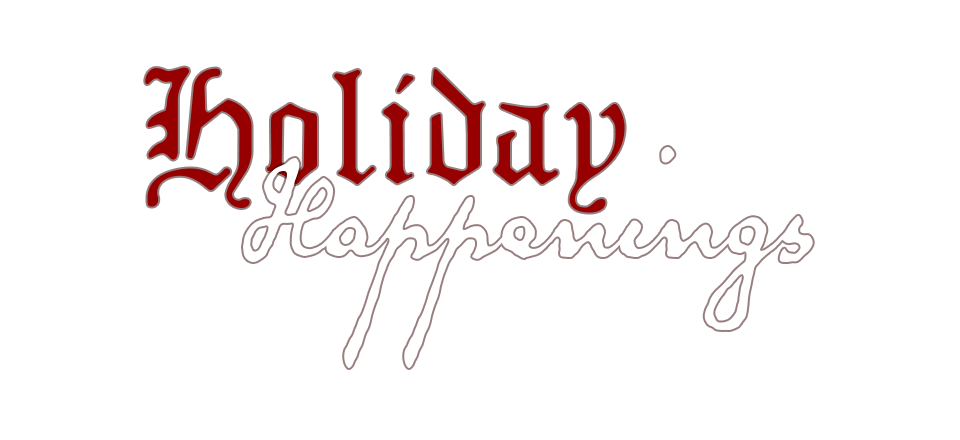 Holiday Happenings 2019
Holiday Happenings 2019 is now available
---
I really am sorry for the delay, but I am also extremely proud to present Holiday Happenings 2019. Thank you so much for your support - for your retweets, for backing on Kickstarter, everything. I am so grateful and humbled that we were able to make this edition bigger and better, together. I couldn't have done it without you, and your investment has already paid off. I owe so many thanks to our staff - Richard, Kate, Misha, Luiz, Allie, Aven. I am touched that you all come on board with me. We did it!
This is an achingly reworked and loved collection of material for favorites Dungeon World and MonsterHearts, and this year we are delighted to also present several new feature pieces - fresh, exciting games that may help you find comfort, joy, peace and closure as we end the year.
You can download it right now, for free (as always), at our Itch page: https://holidayhappenings.itch.io/holiday-happenings-2019
Please keep an eye out over the next day for a survey asking how you'd like to be listed if you backed the Kickstarter. Here are the new games awaiting you at the above link:
Mr. Snowsill's Mystery Mansion - A Holiday Ghost Game
by Phillip Wessels
Mr. Snowsill's Mystery Mansion is a holiday horror game—a tabletop roleplaying game, that is—of a festive-flavored Victorian ghost story. It's been ages since the last holiday celebration at the estate of Mr. Snowsill, heir to a cursed fortune after the mysterious death of his husband at the last holiday celebration. Since that day, due to a grim prognosis by a fortune teller, Mr. Snowsill has not stopped construction in order to not anger the spirits victimized by his husband's empire—until today—and the mansion looks both grande and ill-considered.
You'll play one of the exclusive guests invited from the mansion staff's festivities on the estate grounds to join Mr. Snowsill's private party within the mansion's walls—or so everyone else at the table will think. You might actually be a spirit, a victim of the Snowsill empire, summoned here this festive day to right the wrongs of the past.
Either way, you won't be spared from the horrors of the mansion, and your influence will spread well beyond your character, as you pitch in on playing NPCs and aspects of the mansion and its rooms. The mansion is at conflict, lacking consensus, just as much as you and the other players may be. This is a night that will captivate long after it passes; what secrets will be set free?
This game takes inspiration from Bluebeard's Bride by Whitney "Strix" Beltran, Marissa Kelly and Sarah Malone, Good Society by Storybrewers Roleplaying, and Dream Askew by Avery Alder. A significant touchstone is the folklore of the Winchester Mystery House.
A Very Hexy Solstice - a game of witches and their demon(s)
by Kate Bullock
Blessed Be, Witches! Let's get Hexy!
Winter Solstice is around the corner and it's time to get witchy. You and your polycule coven have come together on the darkest night of the year to destroy a demon who has been haunting you all. The demon has manifested in your coven for the entire winter now, and it has impacted each of you and your relationships differently.
This game includes fire and lighting things on fire. Be safe, be smart, and don't light yourselves, your house, or each other on fire. Keep your hair tied up, the extinguisher nearby, and ensure there's ventilation for smoke. If you're uncomfortable burning things, no problem! Just get some fake tea lights, put those in your bowl, and pretend to burn what needs to be burned!
AVHS is a gmless, diceless game for a bunch of witches to deal with their insecurities and remember to love each other in the darkest of times. Everyone will play a witch and will play the demon once. Because of the terrible influence of the demon, the witches are being cruel to each other and the demon is being horrible to them in return. The goal of the witches is to unite as a coven, banish the demon, and become their better selves before the end of Winter Solstice.
A Quiet Midwinter - A short adventure with all the hallmarks of a Macchiato Monsters romance
by Richard Ruane
"A Quiet Midwinter" is a short and untested holiday queer romance adventure sandbox. In the Village of Quiet, where Archon Winter gets the Naughty & Nice rewards list each winter, the mayor learns that the seer who delivers the list is missing AND his ex is in town.
(Home Is) Where The Heart Is
by Allie Bustion
You're a group of friends getting ready for one of your annual holiday celebrations. It's more or less the day, so what better reason do you need to get together? There's only one problem: the only friend who's actually good at cooking has gotten sick and can't do the bulk of the work the way they normally would.
As a surprise, you've all come together to try to make something edible anyway. Use your disparate and not always applicable skills to cobble something together. It might not turn out great, but it will definitely be full of heart. And that's what matters most (so long as you can still order takeout).
A Holiday Tale
by Luiz Paolo Ferraz
In 1843, Charles Dickens wrote A Christmas Carol, a story about Ebenezer Scrooge, an elderly, rich man who leads a selfish life, mistreating all of those around him. In Dickens' tale, Scrooge is shown visions of past, present and future Christmases by three spirits and is compelled to change his ways, becoming gentle and altruistic. This story had a huge impact on Western society and established a lot of what we currently take as a given about "the meaning of Christmas", like getting together with loved ones, feasting and being charitable.
A Christmas Carol has been extensively retold in several different mediums and through the lenses of various fictional worlds, like The Flintstones, Looney Tunes, The Smurfs, The Muppets and many, many others, showing that the heartwarming tale of a mean person who learns kindness is universal. This game's aim is to let you create your own retelling of A Christmas Carol by using whatever real or fictional holiday you want and setting the story in whatever setting you find more interesting.
Files
holiday-happenings-2019-final-pending-kickstarter-names.pdf
38 MB
Dec 26, 2019
Get Holiday Happenings 2019
Comments
Log in with itch.io to leave a comment.
Looks like there's some funkiness with the logo on mobile. I'll have to fix that tomorrow